Father's Day with Pierre and Norm: A Lifestyle Masterclass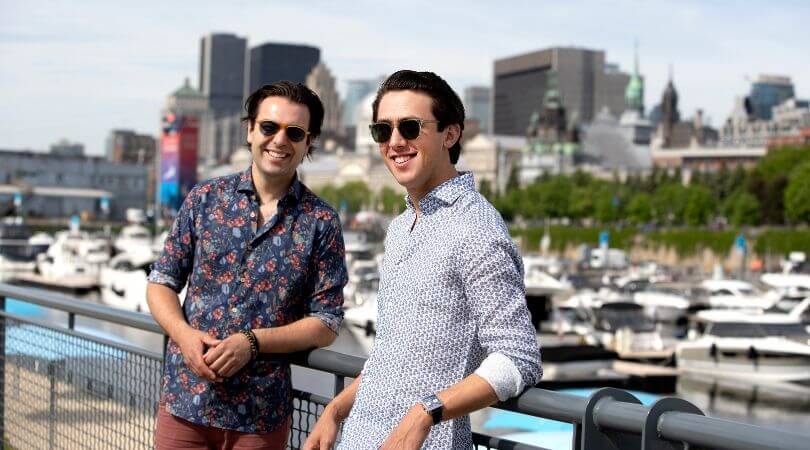 Father's Day: the perfect day to release the second installment of our Lifestyle Masterclass series with Pierre-Benoit Duhamel (CLUSIER) and Norman J. Hebert (Groupe Park Avenue) as both businessmen are proud fathers to young children. As leaders in their respective industries and with many shared interests, this series shines a light on how entrepreneurship and personal life work together for each man.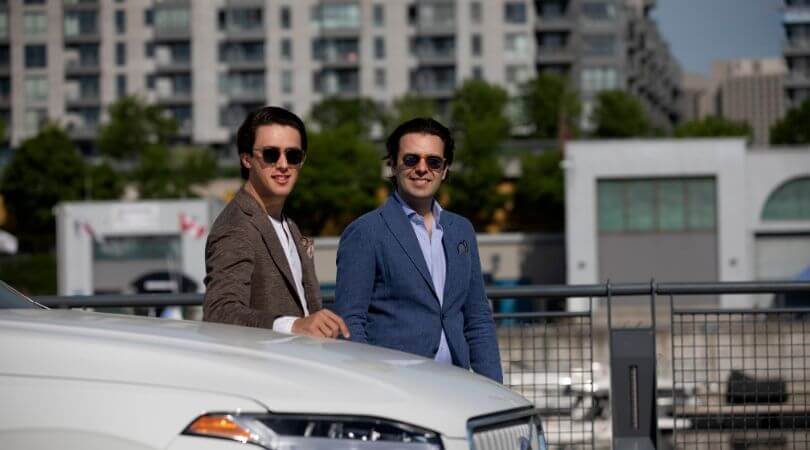 Today, on Father's Day, we gain insight into their words of fatherly wisdom; blending and managing dual "careers" of fatherhood and business; keeping sane and stylish when time is scarce; their passion for family, the luxuries of life (big and small), and success is palpable. Without further ado…
Being a father and leading a business can be quite the juggling act. (Not to mention making time for a social life and nurturing one's passions and hobbies.) If you could distill this life-work balance in the context of parenthood into three main points, what would they be?
Pierre-Benoit:
It's important for me to wake every morning with enthusiasm and to display that energy to others, especially my family. Enthusiasm is contagious. That drive creates a synergy at home (and at work), where your people are involved in your vision-making and can embrace them in their own way. Creating and sustaining the interconnections of your professional ambitions and family relationships is key.
Which leads me to my second point: Truly taking care of one's family, and not just financially. As a father it is a precious thing (even when I'm exhausted) to schedule time with the kids, whether it simply to have some fun playing with them after work or simply striking up conversations about their days, what they're interested in, and giving them my full attention. As the owner of business with a close-knit team that's like family, taking care of the people I work with has a similar weight. Finding ways to create the ideal work environment where career development, performance and personal happiness come together is my continuous mission!
And lastly, it has to be said that finding ways to decompress, disconnect and recenter oneself is probably the most important. You have to take care of yourself before you can take care of others. Cycling is a great way for me to keep in shape and reset my focus!
Norman:
While I see myself more as a "repreneur" than an entrepreneur, as I entered a pre-existing business and didn't found it, the game is nearly identical. Assuming a leadership role in an organization is very demanding, so it's important for me to be rational with my time and well organized in order to stay in the lane.
I suppose my first essential point would be to focus on the most critical things when it comes to time management. Without that structure my life would be a lot messier! There are so many opportunities and potential distractions at work and at home that I have no choice but to filter through them and address them in priority of urgency and in terms of what will bring the most value to both worlds. Prioritizing and often saying no to certain requests and functions is necessary to have a beautiful home life.
This leads me to my second lesson, and it's very simple: I set rules for myself. For example, I keep my promises to my family, my business, and even myself. And if I can't keep them when I said I would, I make sure it takes priority with an alternative specified time. Every man should find himself a code that work for his lifestyle.
And lastly, the most important factor in keeping the balance is the support and care I receive from my wife, Jaclyn and the rest of my family. I don't have the luxury of a regular 9-5 schedule. We knew this would be the reality before starting a family. Communication is key and makes the support I have from my wife all the more meaningful!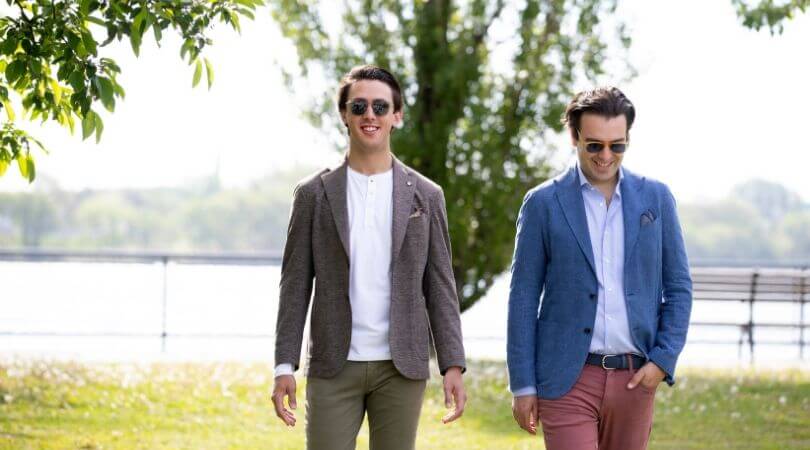 What changed in how you approached your business when you first became a father?
Pierre-Benoit:
Priorities, priorities! All my priorities shifted. I was no longer just working for myself, but for the benefit of my family. Building a successful business means that you're also building a future of your children. Shifting mentalities from working hard to working smart was extremely important. Even the most challenging days at work are light knowing that I'm working so that they thrive in life, have the opportunity to experience as much as they can while they are young and have access to the best education. Also, you learn to laugh at every opportunity!
Norman:
How I approach both my clientele and team changed a lot. While I always truly cared for the members of my team, I see many of them who have young children in a very different light now. What once were details of their personal life are now at the forefront of all consideration. I know what life is like as a parent. Getting ready for work in the morning and coming home after eventful days is a whole other experience! It's constant movement for them!
The same goes for those we serve at Groupe Park Avenue. Their time is incredibly valuable and they don't have a moment to spare. Keeping our marketing focused, having conversations that are enjoyable but centered on the essentials, and making sure they're taken care of efficiently is not only good business, but it makes sense from a parent's point of view. If they're at the dealership on a Saturday it's not because they have all the time in the world! They have family commitments before and after being served by us. Get them in and get them out! Respectfully of course.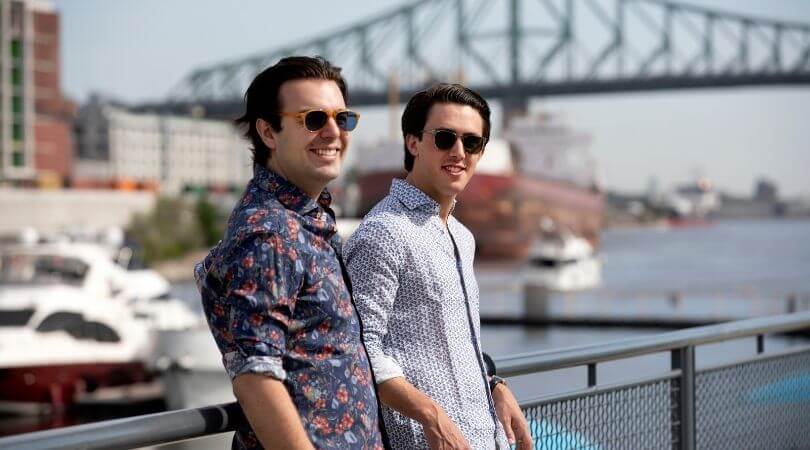 What was the most important thing you learned from your father? And what do you hope to pass on to your sons?
Pierre-Benoit:
He showed me that being present and supportive is unquestionably important. My dad was always available to answer my questions and give me his experienced opinion. He would listen. Especially as a young man starting my own business (which seems like an eternity ago), it was reassuring to have him to talk to about the day-to-day and larger strategic issues of running a business. It's an incredible testament to what family should be. When it comes to my sons, I really want to cultivate in them a sense of perseverance, as well the appreciation of life's simple luxuries, like taking up a hobby and being mindful when experiencing something as simple as a morning coffee. I want them to grow up feeling the way I felt with my own father: supported and encouraged.
Norman:
My father worked a lot. He would travel frequently when I was young. But when he was home, he was home. He was present and involved in taking care of household things with my mother – which was a fantastic thing to see growing up. He showed me that balancing work and family was not only possible but important. We've always been close but now as I am a father myself, I appreciate him all the more. That we now work together also brings it full circle. Just like my own father I want to model to my son what he modeled to me. I will encourage him to pursue higher education, and probably most importantly, to travel. Broadening one's view of the world through travel is so enriching and vital for their future. Always being present to help him navigate life and help him to make important decisions, like whether or not he should come work at Groupe Park Avenue! (Never pressuring him of course! Just like my dad.)
Becoming a parent often means having to switch cars to accommodate a new lifestyle. What changes did being a parent bring to the road?
Pierre-Benoit:
You bet it does! I was driving an Audi A4 but had to switch to the Q5 to accommodate having two active little boys. It's unbelievable just how much space you need for a simple day-trip! Even the Q5 is getting too small! That might also be partly my fault. I know how to pack. I am in the menswear business after all!
Norman:
I switched to a Volvo XC90 because of their delicate Scandinavian design, excellent performance, functionality, and finally, because of their obsessive attention to safety. Volvo declared in their Vision 2020 statement that no one should be killed or seriously injured in a new Volvo by 2020. That's a fairly ambitious statement but one I believe they will make happen. The company has been making cars with a special interest in safety since 1959, and so as a new dad that priority became all the more serious. I don't leave anything to chance, especially when my family is concerned! Did I mention the car is white? I only drive white cars!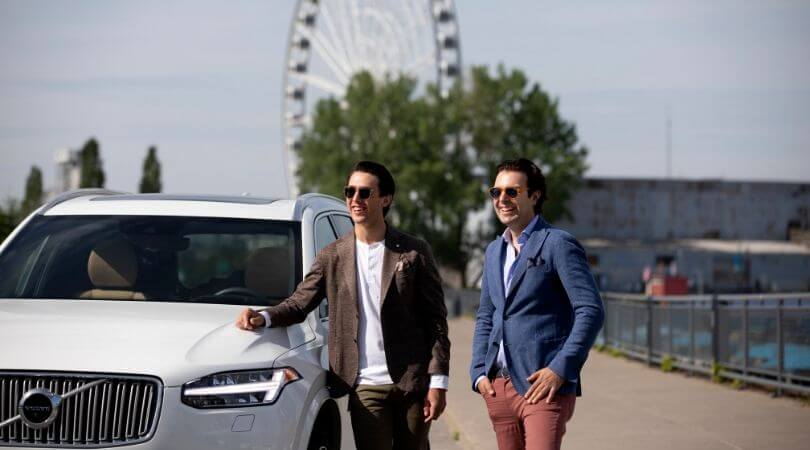 How did the way you dress change when you started your family?
Pierre-Benoit:
Everything changed. I never wear white shirts before the kids are in the car in the morning! I've also simplified my approach to getting dressed each day, and I wear suits less. A comfortable pair of jeans or five-pocket pants with a white shirt, a tie and an elegant sport jacket is my go-to uniform. It's stylish and also convenient, as any one part of the ensemble can be easily replaced if there is a spillage from one of the kids! This approach also means I spend less time getting ready and more time with the kids in the morning before drop-off.
Norman:
The only thing that has changed is that I care a lot more about my clothes now than I ever did! Feeling good in your clothes as a parent to young children is truly a luxury, as you never know when the next "accident" will happen! Keeping things comfortable but also elegant is important for me, as I deal with clientele on a regular basis and want to put the best version of myself out there. Confident but approachable. Being a dad helps with that I think!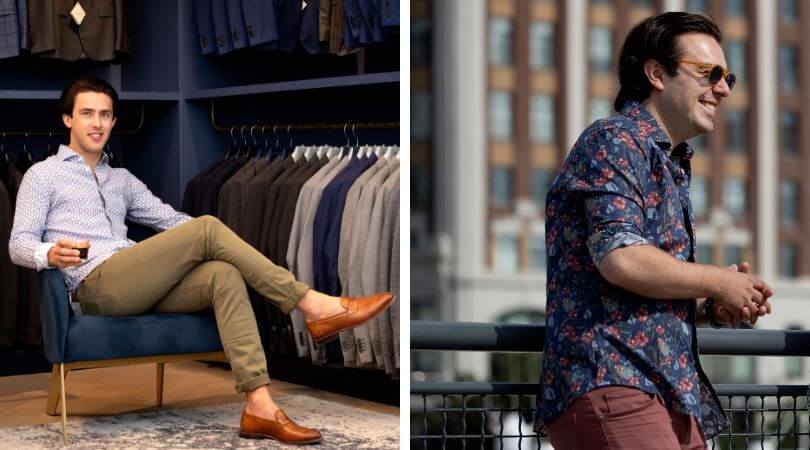 Photography
© Allen McInnis 2019. No third party usage is permitted without prior consent. amcinnis@mcinnis.ca