The Infinite Possibilities of Made-To-Measure Suiting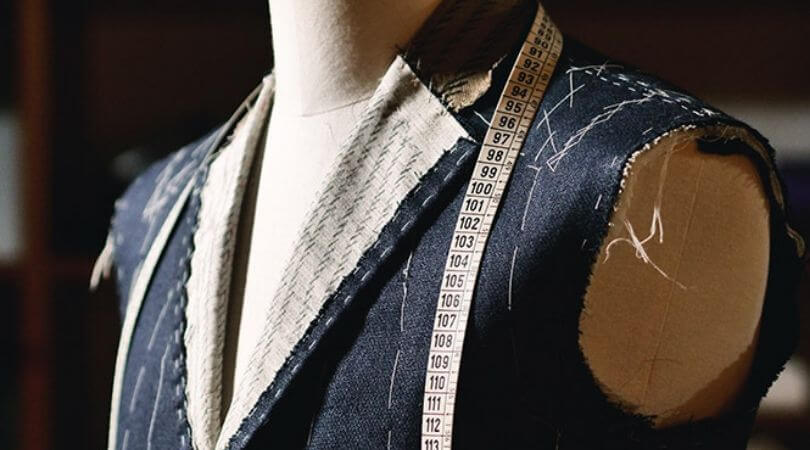 The last decade has seen a global renaissance in the creation of elegant, quality menswear for all tastes and lifestyles. In particular, the custom or made-to-measure suiting programs made available to men have grown exponentially, being made available world-wide. While this is a welcome event, not all made-to-measure suiting is made equal!
At CLUSIER, our goal is to provide a service that is detailed, courteous and reliable. Elegant suiting requires a certain exactitude, though by its nature it is an art. That's why CLUSIER provides made-to-measure services fuelled by esteemed manufacturers and artisans whose legacy is steeped in tradition with a passion for innovation. With all the possibilities at your disposal, we've made it easier than ever to get that personal and unique look without sacrificing any of the care for quality and attention to detail that made-to-measure suiting has to offer. Getting started with made-to-measure couldn't be easier!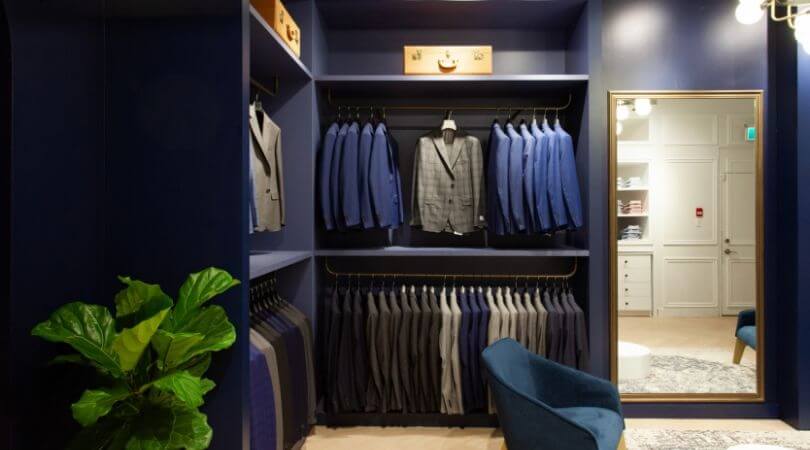 The CLUSIER First Sip
Every fitting begins with refreshments, whether it be coffee, sparkling water, or wine. We like to get to know our clients, their passions, their work, and their menswear needs. Relax and ease into the experience in our VIP lounge where slowing down, reconnecting with yourself and taking a well-deserved break from your day begins the process!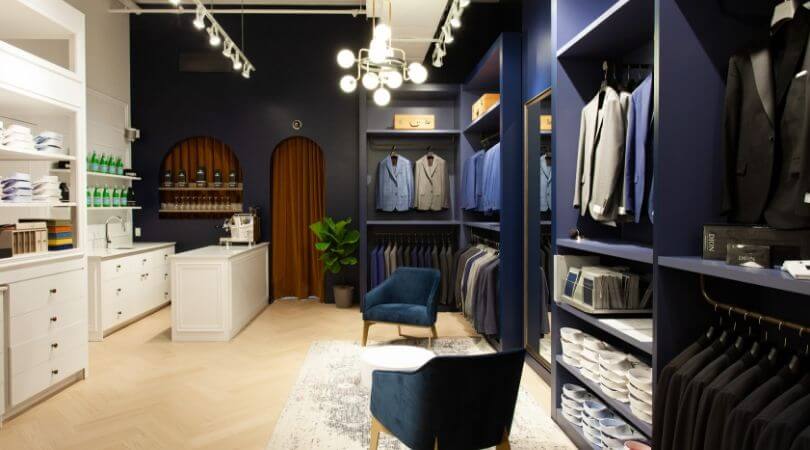 Back to Basics
Once we've ascertained your needs, the time has come to introduce you to the various made-to-measure programs we offer. From Canadian bulwarks Jack Victor, Samuelsohn and Coppley, to the Italian juggernauts Pal Zileri and Luigi Bianchi Mantova, we have all the bases covered when it comes to providing elegant options for your made-to-measure business, and formal needs. Every manufacturer we collaborate with provides an expansive selection of models to work with so that every man can feel confident right from the start of the process. Setting you up for success, we'll have you try on a sample in the model that fits you best and work from there. This ensures a flawless fit, and allows the people making your suit or sport jacket to have a clear point of reference when executing their craft.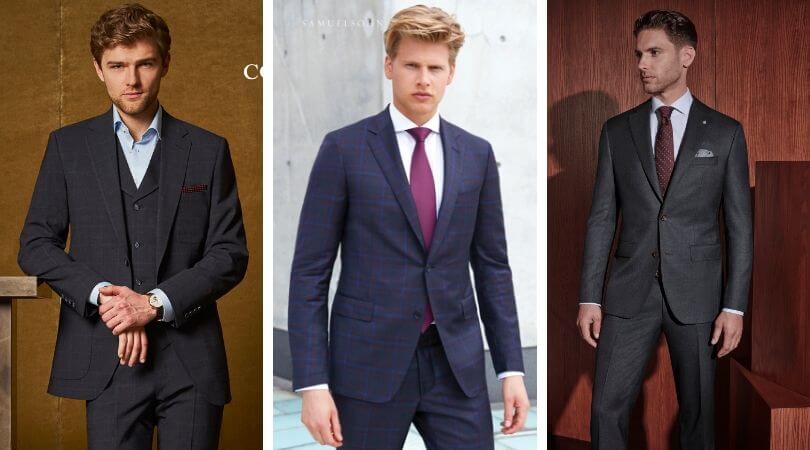 Get Fit
This is truly where the magic happens. Whatever your needs, our skill and experience make certain the ideal fit and silhouette of every made-to-measure garment. We take your precise measurements, take note of your preferences, and give our input on how to best make your suit not only look great, but look like it was meant to be worn by you – and you alone. That's the point of made-to-measure after all!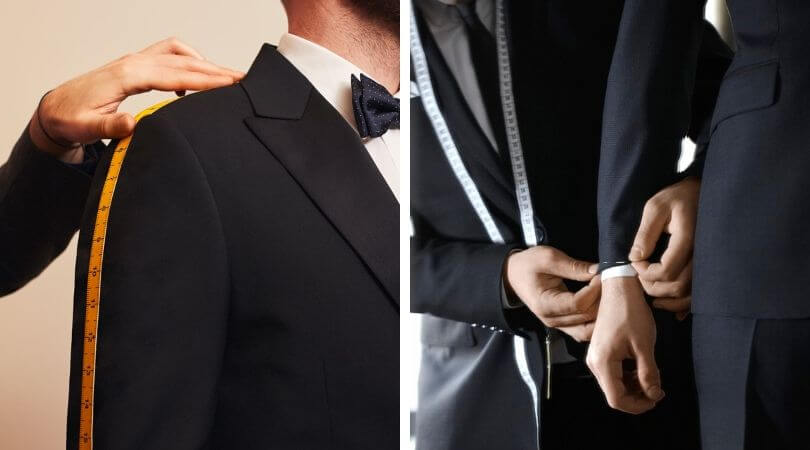 Choose Your Aesthetic
With hundreds of coveted fabrics from the best Italian mills to choose from, made-to-measure at CLUSIER is an involved, and personalized experience. You'll have more than enough selection to choose from while creating your own suits and sport coats – and that's just the beginning. Your choice of buttons, lapel styles, button arrangements and more, are all essential components of a personalized look that reflect your personal style. For business, pleasure and anything in between, made-to-measure is the ultimate opportunity to take total control of how you present yourself to the world! Of course, our skilled team of made to measure specialists are always there to guide you in this process that is much simpler than you think.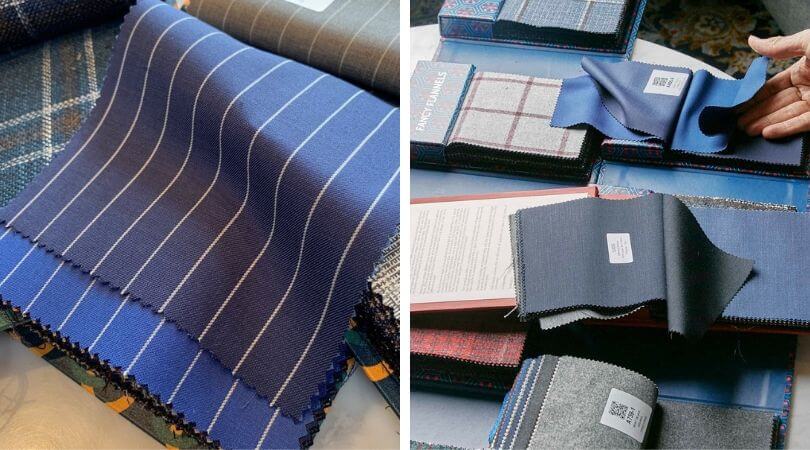 The Final Touch
After a few weeks of eager expectation, your commissions have arrived at our doorstep! The time has come for a final fitting, and minor alterations that will ensure final fit, and unquestionable refinement. As soon as the work is done by our expert tailor, we can't wait to show off the final product by putting together any and all possible ensembles with our in-store collections so that you can see the true potential of your truly unique made-to-measure creation.
We're always here to bring the most exclusive dressing experience to the distinguished men of Montreal (and abroad). You're always welcome at CLUSIER, where making your wardrobe more modern, unique and refined is our raison d'etre. Book an appointment today with Marina, Jean-Michel, Richard or Pierre-Benoit, and let loose over some of the best espresso coffee in the city while we guide you through the infinite possibilities of made-to-measure!